| | |
| --- | --- |
| Search the WinSPC Knowledgebase | Browse by Category |
| | |
How can I quickly import a list of data values into WinSPC?
Importing raw data can be done in just a few clicks. WinSPC can import raw data from an ordinary text file into a single variable. Raw data is, as the name suggests, only sample data readings. This means that it does not contain any other information; like variable names, product specifications, tolerances, dates, etc… Also like the name suggest the data could possibly contain errors, and non-validated data. Not to worry, WinSPC can apply a Control Test Template as you import the data. Data can be aligned horizontally as in comma separated variables ( see Figure 1) or vertically in a column format (see Figure 2).
Use the following steps to read in a raw data file.
Log in to WinSPC as the Admin user or a user that has Administration permissions to Edit Parts and Folders.
Create or locate the target variable that you are going to read the data into.
Right-click on the target variable and select Raw Data Import from the list. This will bring up the Raw Data Import window.
In the Raw Data Import window, under the Import Options – Filename:, click the Browse button to bring up the Open window.
Locate and select the text file that contains the raw data, then click the Open button to bring you back to the Raw Data Import window.
If you would like to apply a control; click the Browse button and select a Control Test Template.
Enter the separator characters for Decimal Separator and Value Separator if different than a period (.) or comma (,) respectively.
Click the OK button to start the import process.
Below are two examples of raw data files.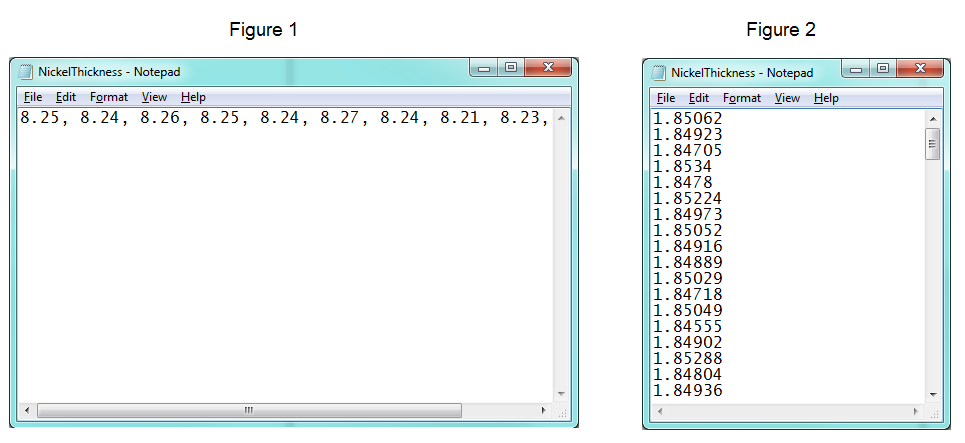 Attachments
No attachments were found.
Related Articles
No related articles were found.
Visitor Comments
No visitor comments posted. Post a comment