| | |
| --- | --- |
| Search the WinSPC Knowledgebase | Browse by Category |
| | |
I'm getting an "Out of Order Reading Rejected" message during data collection. What does this mean?
This error occurs when the current collection plan step variable receives data that is intended for a different collection plan step variable. The data being collected is in a different order other than what the collection plan was expecting. This error usually occurs when you are using Devices to collect data, and the order of the data may not be sequential. This causes WinSPC to show the "Out of Order Reading Rejected" error message, discard the data, and wait for the next data reading.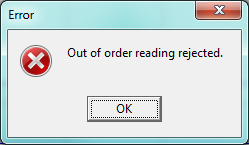 Solution 1

Login to WinSPC with an account that has permissions to edit the collection plan.
Right click on the collection plan and selecting Properties. (Alternately you could double click on the collection plan to bring up the properties).
On the Step Options tab select all variables steps. This can be done by a single-click on the top item in the list, then hold the shift key down and single-click the last item in the list, then release the shift key.
Under the Collection Method dropdown box select Random.
Click the OK button to save the collection plan. This should resolve the 'Out of Order Reading Rejected' message.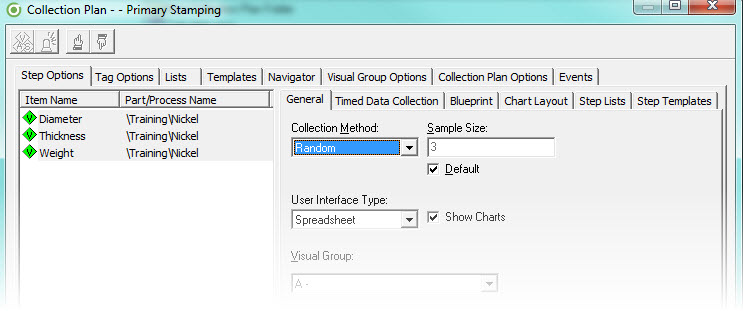 Solution 2
Re-Order the variables in the Collection Plan to match the order that the data is being received.

Solution 3
Re-order the incoming data (or the procedure for gathering data) to match the order listed in the Collection Plan.
Attachments
No attachments were found.
Visitor Comments
No visitor comments posted. Post a comment