| | |
| --- | --- |
| Search the WinSPC Knowledgebase | Browse by Category |
| | |
What is the Data Collection Ribbon and how can I use it in Data Collection?
Introduction
The Ribbon within WinSPC's data collection Window is a visual aid intended to give your Data Collection operator additional functionality. The Ribbon serves 3 functions:

Acts as an indicator as to which characteristic your operator is currently collecting data for.

Gives your operator the oppertunity to correct their data before committing it to the WinSPC database.

Allows your operator a moment to view the data on the chart before moving on to the next characteristic step in the Collection Plan.
Options and Configuration
The Ribbon displays the current part and characteristic where data is being collected to, separated by a period (.). Additionally, The Ribbon displays either of the folllowing:
This behavior is set on the 'Collection Plan Options' tab of each Collection Plan Setup screen.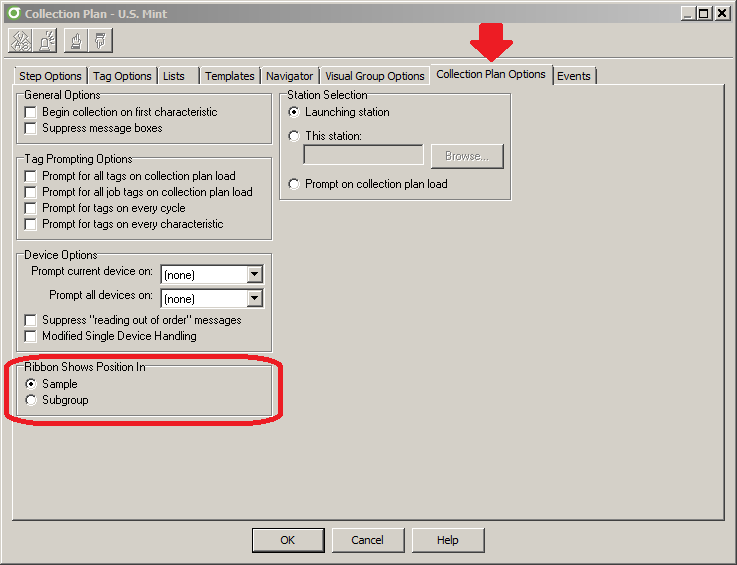 In addition to its display capabilities, The Ribbon also functions to control the current display and to provide the user the ability to correct data entry errors before such errors would necessitate tracking. When a full subgroup of data has been collected, The Ribbon cycles. This involves the procession of a blue bar across its background from left to right. At any time before the bar reaches the right of The Ribbon the user may click on an errant sample reading and correct it.

Once The Ribbon reaches the right, any such changes to the data are recorded, tracked and marked in the database. In this fashion The Ribbon affords the user their last chance to modify data without leaving a discernable trail within the software. Once The Ribbon has traversed the screen from left to the right, the chart is updated, including the newly entered point and the results of any control tests levied against it. This chart remains in view while The Ribbon retraces its path from right to left, at which point the data collection window focuses on the next characteristic in the Collection Plan.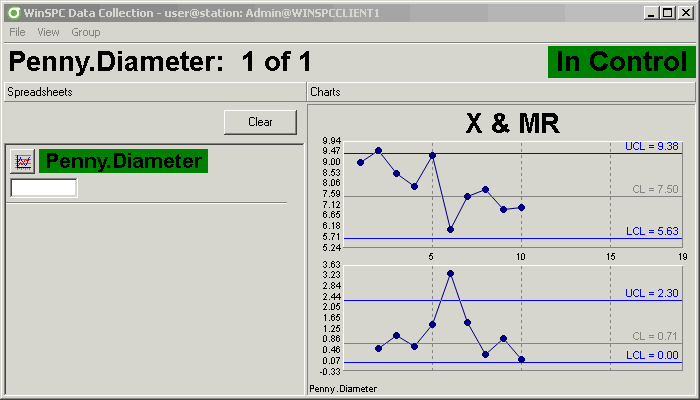 The amount of time the operator has to click on the reading to be edited is called the 'Edit delay'.
The amount of time the operator has to view the chart before automatically being moved to the next sequential step of the Collection Plan is called the 'Display delay'.
Both are global settings configured by the Admin user in the 'General' tab under 'Tools'->'System Settings...'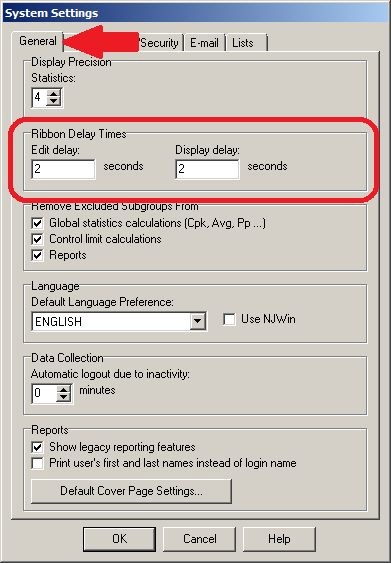 NOTE: The 'Ribbon Delay Times' are both MAXIMUM times. Your operators may always bypass the 'Ribbon Delay Times' to speed up their data collection workflow!

Attachments
No attachments were found.
Visitor Comments
No visitor comments posted. Post a comment